Zohaib is a vastly experienced Systems Engineer, and currently VP, Product Development & Engineering at Velodyne Lidar.
He'll be attending AIAI World's Computer Vision Summit in Boston, on October 20, 2022.
---
Grab your team's ticket below:
Computer Vision Summit
---
Q: Tell us a bit about Velodyne Lidar and the products you offer.
A: Velodyne Lidar invented 3D lidar and spawned an industry. Ever since that time, Velodyne has been committed to continuous lidar innovation.
We are a lidar industry leader with the strategic vision and technology platform that is essential to making lidar ubiquitous. Our engineering makes best-in-class lidar sensors and software, which help municipalities as well as robotics, industrial and automotive companies drive positive change.
Velodyne offers both solid state and surround lidar sensors, each having a key role depending on the application. Our solid state sensors feature sleek designs, which are embeddable within robotics, industrial and autonomous vehicle/ADAS products.
Our surround sensors provide a 360-degree view and are used for a wide range of applications, such as robotics, industrial, infrastructure, automotive, and more.
Software is an important part of Velodyne's growth roadmap. Our Vella software translates raw point cloud data into actionable information, providing a high level of perception outputs for roadways, sidewalks, and indoor environments.
These outputs include scene segmentation, object detection, velocity estimation, free space detection, and lidar-based odometry. Our Vella Development Kit (VDK) allows customers to sync their lidar sensors with Vella.
---
Q: What sets your products apart from the competition?
A: Velodyne has leading advantages in the lidar industry: experience, customer relationships, and research and development. We are shipping sensors worldwide today and our real-world applications, miniaturized technology, software, and manufacturing capabilities are key to making lidar ubiquitous.
Our revolutionary sensor and software solutions are uniquely suited to deliver the flexibility, quality, and performance needed to meet the needs of a wide range of industries. With the largest portfolio of lidar products on the market, Velodyne can help customers find the right solution for every application. We also work with customers to create customized solutions that fit their needs when needed.
---
Q: How do your products benefit the AI community?
A: Lidar provides a rich source of real-time 3D perception data for localization, mapping, object classification, and object tracking. Lidar sensors generate more actionable data than ever before which AI developers can use to build new applications.
For example, our Intelligent Infrastructure Solution (IIS) integrates our lidar sensors and AI software from Bluecity. The solution monitors traffic networks and public spaces to generate real-time data analytics and predictions.
The system's AI capabilities leverage lidar's 3D perception data to classify and count all road users, along their speed and trajectories, in real-time. IIS helps communities increase efficiency, advance sustainability, and protect vulnerable road users in all weather and lighting conditions, 24/7, 365 days a year.
Another example is our lidar sensors' integration with NVIDIA's Isaac Software Development Kit, an open robotics platform, to speed up development and deployment of commercial-grade robots.
This integration makes it easy to add AI for perception and navigation into modern-day robots. Velodyne lidar makes it possible for mobile robots to detect and classify objects at ranges that allow for appropriate decision-making and safe, efficient navigation.
---
Thinking of attending our event to watch Zohaib's Panel? Take a look at why you should book your team's ticket today: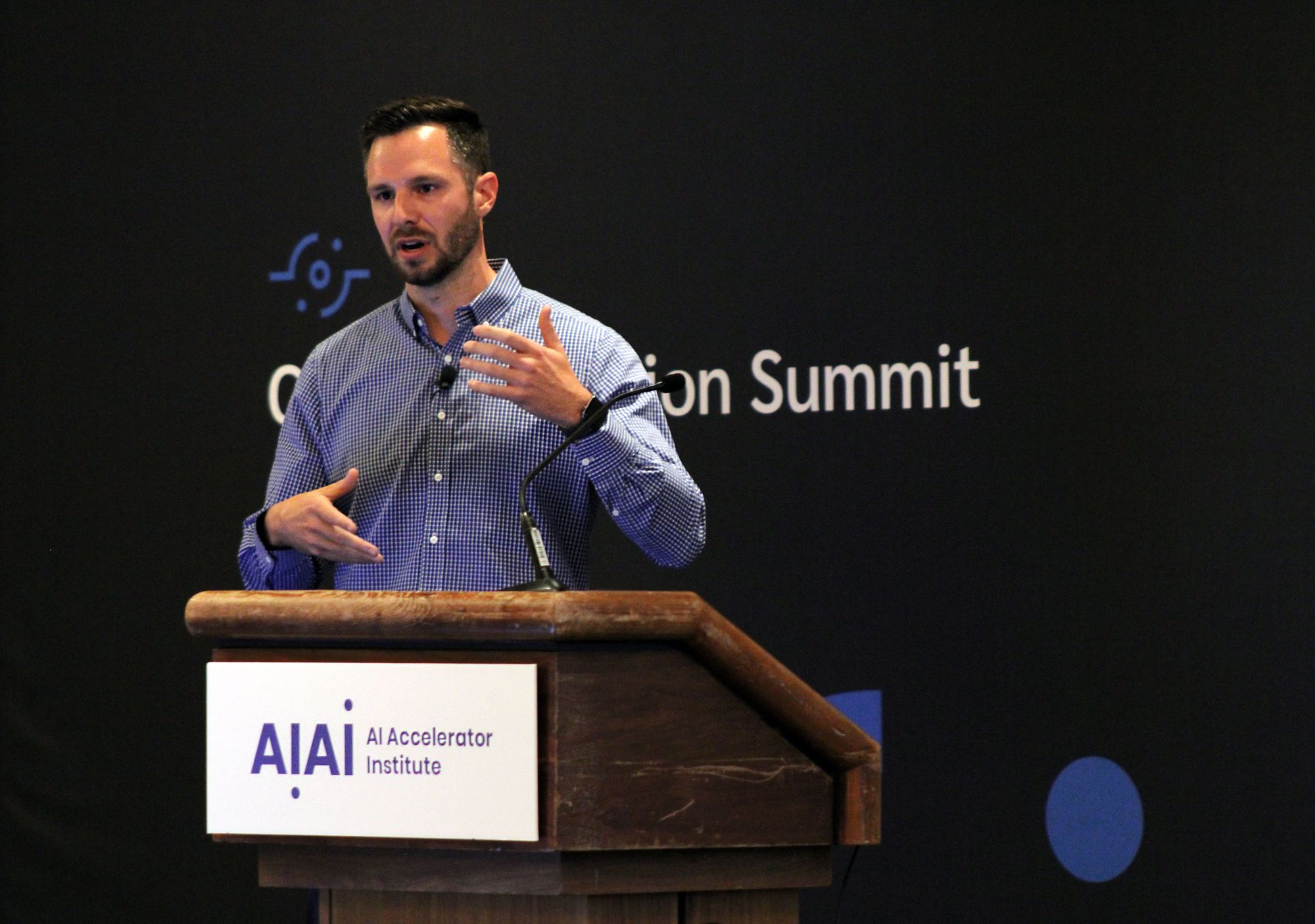 ---
Q: What is the biggest challenge your company is facing?
A: Currently, cost is seen as a challenge for the lidar industry. Velodyne's goal is to make lidar ubiquitous. To do that, industry prices need to decrease. While our technology is set up for this, some of our competitors' technology is not.
Within industrial, robotics, intelligent infrastructure, and smart cities, we are deploying high-performance sensors at an affordable price point to accelerate mass adoption. This work will be critical for lidar deployment in the automotive industry, where we believe that existing offerings are inherently too costly for mainstream adoption.
Additionally, our proprietary manufacturing processes and partnerships enable us to ship at scale to a broad range of industries.
---
Q: Do you have an actionable piece of advice or insight to share with the audience?
A: Explore ways to integrate lidar into your AI-based solutions now. Lidar is going to transform virtually every industry as we know it today and create a safer, more efficient, and more sustainable world.
There are an enormous number of new lidar-based applications set to grow in the next several years. Applications include industrial automation, robotics, drones, smart cities, and a wide range of other markets. These will be the first markets to see high-volume commercial deployments of lidar-based technologies.
A second wave of lidar growth – autonomous vehicles and ADAS – will come later in the decade.
Now is the time to gain experience and early market mover status with lidar. A good starting point is to join Automated with Velodyne, a global ecosystem of integrators and developers building the next generation of autonomous solutions.
---
Did you know we've also got an AI Accelerator Summit in Boston, on October 20, 2022?
Have a look at the line-ups below:
Computer Vision Summit line-up
AI Accelerator Summit line-up