We've had a look at the best AI platforms in 2022 – but what about the most wanted artificial intelligence platforms?
In this article, we go over the top 12 most wanted AI platforms in 2023, as highlighted in our AI Software of Choice 2022 report. These are:
Pro tip: Download the full report here to see the main features of every platform!
---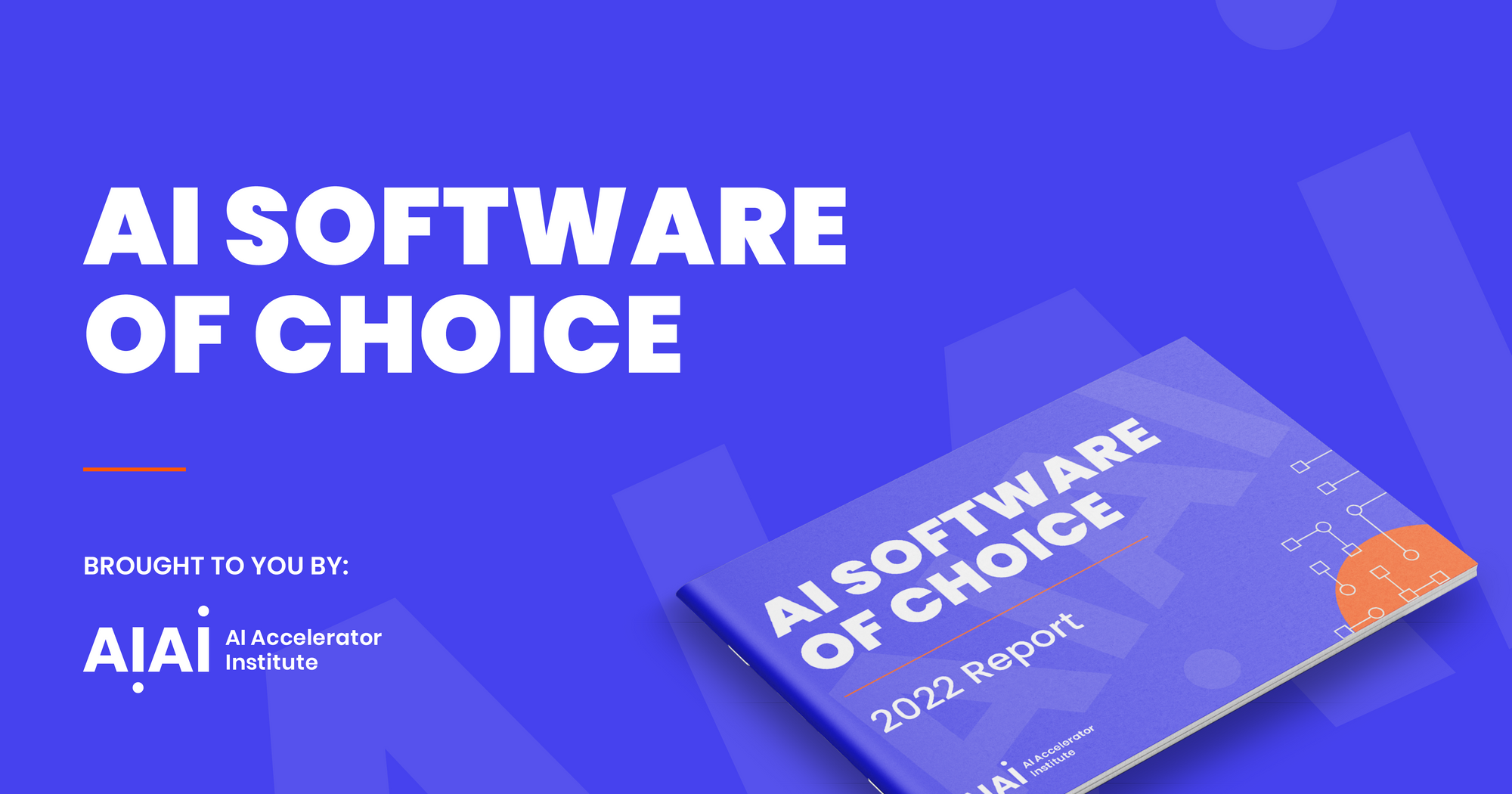 ---
TensorFlow
The company
Developed by the Google Brain team for internal use at Google in research and production, TensorFlow is Google's second-generation system. The original version of TensorFlow was released in 2015 under the Apache Licence 2.0, however, Google open-sourced the updated version in 2019: TensorFlow 2.0.
The platform
This software library for artificial intelligence and machine learning can be used across a wide variety of tasks, however, its focus is on training and inference of deep neural networks. Written in Python, C++, and CUDA, it has flexibility that allows for application in a variety of sectors. Available on GitHub.
Ideal for:
---
Microsoft's Azure Cognitive Services
The company
Microsoft Azure, or just Azure, is a cloud computing service from Microsoft for application management. It offers software as a service (SaaS), infrastructure as a service (IaaS), and a platform as a service (PaaS). It also supports a variety of tools, programming languages, and frameworks - both third-party and Microsoft-specific software and systems.
The platform
As a set of prebuilt Software Development Kits (SDKs), APIs, and customizable services for developers, Microsoft Azure Cognitive Services' main categories are vision, language, speech, decision, and search. It offers machine learning frameworks and tools for developers to create their own artificial intelligence and machine learning services.
Ideal for:
Small, medium, enterprise-level
---

---
Bixby
The company
Bixby was developed by Samsung Electronics, which is a South Korean multinational electronics company that manufacturers lithium-ion batteries, image sensors, semiconductors, displays, and camera modules.
The platform
Samsung's intelligence assistant, Bixby was first introduced on both the Galaxy S8 and S8+. As a major reboot for S Voice, the previous iteration of a voice assistant app, Bixby was rolled out across Samsung's line of TVs, smartphones, and refrigerators. It also lets third parties develop applications for Bixby by using the Samsung Developer Kit.
Ideal for:
Voice assistance
Image recognition
---
Clear Sale
The company
Founded by Pedro Chiamulera, a two-time Olympic athlete, ClearSale was Brazil's second-fastest-growing company in 2010, currently having over 1,500 employees. Working with eCommerce companies, it helps to identify fraudulent transactions.
The platform
ClearSale combines human interaction and machine learning, tracking orders that are submitted to client websites and sorting them according to their determined fraud risk. When transactions are denied, there's a manual review process that minimizes false positives. It focuses on indicators of CNP fraud management like rejected orders, chargeback losses, fraud, and response time.
Ideal for:
Small/medium businesses
Enterprise-level
---
Cybersource
The company
As a payment service provider, Cybersource allows customers to process online payments, simplify payment security, and streamline online fraud management. Acquired by Visa Inc in 2010, it provides online payment and fraud management services and offers secure and express checkout thanks to having developed a hosted payment page and Tokenization tech.
The platform
Cybersource supports normal direct card payment alongside innovative and popular payment methods such as Visa Checkout, Alipay, Apple Pay, and more. It also allows for fraud management. Payment security, seamless payments. GitHub repositories are available.
Ideal for:
Medium and large merchants
Scalability
---
Trifacta
The company
This privately owned software company mainly develops data wrangling software for self-service data preparation and exploration on both on-premises data platforms and on cloud. Trifacta has expanded support for Amazon Web Services (AWS, Azure, Google, Databricks, and Snowflake.
The platform
Trifacta uses machine learning, human-computer interaction, data visualization, and parallel processing to allow non-technical users to work with large datasets. It's designed for analysts to transform, explore, and enrich raw data into both structured and clean formats. There are three products available via the platform.
Trifacta Wrangler
A connected desktop application that allows data transformation for downstream analytics and visualization.
Ideal for:
Wrangler Pro
Supports cloud and on-premises deployment options, larger data volumes, and the ability to operationalize and schedule data preparation workflows.
Ideal for:
Trifacta Wrangler Enterprise
This enterprise-level offering is ideal for teams in organizations, offering centralized management of governance, security, and operationalization.
Ideal for:
---

---
Phlexglobal
The company
A leading technology and services organization for both clinical and regulatory issues, Phlexglobal focuses on making sure its clients can master their digital agenda through AI-proven solutions. By combining software and leading expert services, it offers unique solutions that allow for automation through data generation.
The platform
PhlexTMF is the company's Trial Master File software, while PhlexSubmission regulatory solutions help with electronic Common Technical Documents (eCTD) and Common Technical Documents (CTD).
PhlexIDMP, PhlexRIM, and PhlexEVMPD are seen as highly innovative in the industry thanks to their outside-the-box best practices abilities, user-focused design, and use of automation technology. PhlexNeuron is a machine learning platform that converts unstructured data into structured data.
Clinical
PhlexTMF
Ideal for:
Health and organizational efficiency
Regulatory
PhlexRIM
PhlexSubmission
PhlexSubmission Express
PhlexIDMP
PhlexEVMPD
Ideal for:
Compliance and regulations
Automation
PhlexNeuron
Ideal for:
Regulatory process automation
---
Dataiku DSS
The company
Founded in 2013, Dataiku is a leader in empowering organization-wide collaboration and democratizing data. The company has over 450 businesses worldwide using its platform for customer churn prevention, fraud detection, supply chain optimization, predictive maintenance, and more.
The platform
Daitaku Data Science Studio (DSS) is an AI platform that meets the needs of data scientists, business analysts, data engineers, and AI consumers. It also tries to span the machine learning process from end to end (from data preparation through MLOps and more). The user interface combines graphical elements, code, and notebooks.
Ideal for:
Tech experts
Business experts
Enterprise leaders
---
Databricks Lakehouse Platform
The company
Founded in 2013 by the creators of Apache Spark™, Databricks has its origins in the open-source community and academia. Over 7,000 organizations across the globe use Databricks for massive-scale data engineering, full-lifecycle machine learning, collaborative data science, and business analytics.
The platform
DatabricksLakehouse Platform is the world's first and only lakehouse platform in the cloud, combining data warehouses and data lakes for an open and unified platform for data and AI. Through this unified approach, the modern data stack is simplified, as data silos that typically separate and complicate data engineering, data science, machine learning, and more are eliminated. Available on GitHub.
Ideal for:
Small, medium, enterprise-level
---

---
DataRobot AI Cloud Platform
The company
Founded in 2012 to democratize access to AI, DataRobot is the AI Cloud leader with the vision to deliver a unified platform for all users, environments, and data types. It allows organizations to leverage the transformational power of AI by offering the world's only AI Cloud platform combined with an AI-native strategic success team.
The platform
DataRobot's AI Cloud is built for modern AI challenges, demands, and opportunities. It offers one single system of record to accelerate the delivery of AI to production for all organizations, allowing for user collaboration in a unified environment that's created for continuous optimization across the entire AI lifecycle.
Ideal for:
---
Amazon Sage Maker
The company
Amazon Web Services (AWS), an Amazon subsidiary, provides on-demand cloud computing platforms and APIs. It offers a set of artificial intelligence and machine learning services to meet business needs. With the technology implemented at server farms across the world and being maintained by the Mazon subsidiary, fees vary based on a combination of hardware, usage, software, operating system, and more.
The platform
Amazon SageMaker makes every step of the machine learning process easier, simplifying the development of high-quality models. It provides all of the components used for machine learning in one single toolset so that models go to production faster and with less effort, all at a lower cost. GitHub repositories available.
Ideal for:
---
IBM Watson
The company
International Business Machines Corporation (IBM), is a multinational technology corporation founded in 1911. It produces and sells computer hardware, software, and middleware, alongside offering hosting and consulting services. IBM's inventions include the floppy disk, the automated teller machine (ATM), the magnetic stripe card, the SQL programming language, and more.
The platform
IBM Watson Studio
Accelerating both machine and deep learning workflows needed to infuse AI into business, Watson Studio offers a suite of tools for application developers, data scientists, and subject matter experts. It allows multidisciplinary teams across an organization to collaborate, with a choice between code or no-code tools to build and train machine learning and deep learning models - or even retrain and customize pre-trained Watson APIs. GitHub repositories available.
Ideal for:
Individuals to enterprise-level