Are you ready for a step up in your career?
AIAI proudly announces our Certified Data Science Practitioner [CDSP] and Certified Artificial Intelligence Practitioner [CAIP] certification courses, in partnership with CertNexus.
Expand your knowledge and take your skills to the next level - what are you waiting for?
Here's what you can expect from the course when you sign up:
---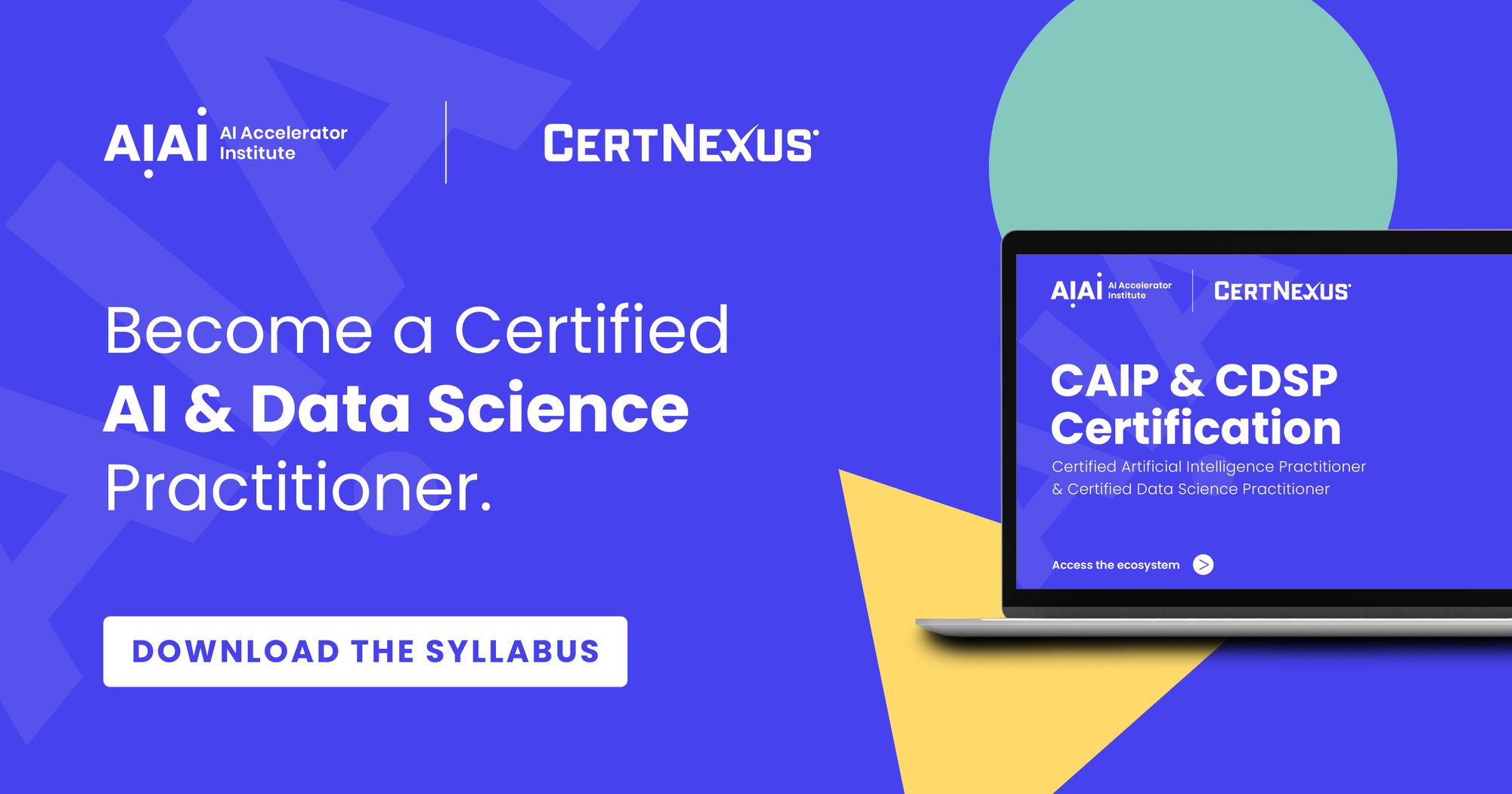 This course shows you how to:
Apply various approaches and algorithms to solve business problems through AI and ML.
Follow a methodical workflow to develop sound solutions.
Use open-source, off-the-shelf tools to develop, test, and deploy those solutions, and ensure that they protect the privacy of users.
---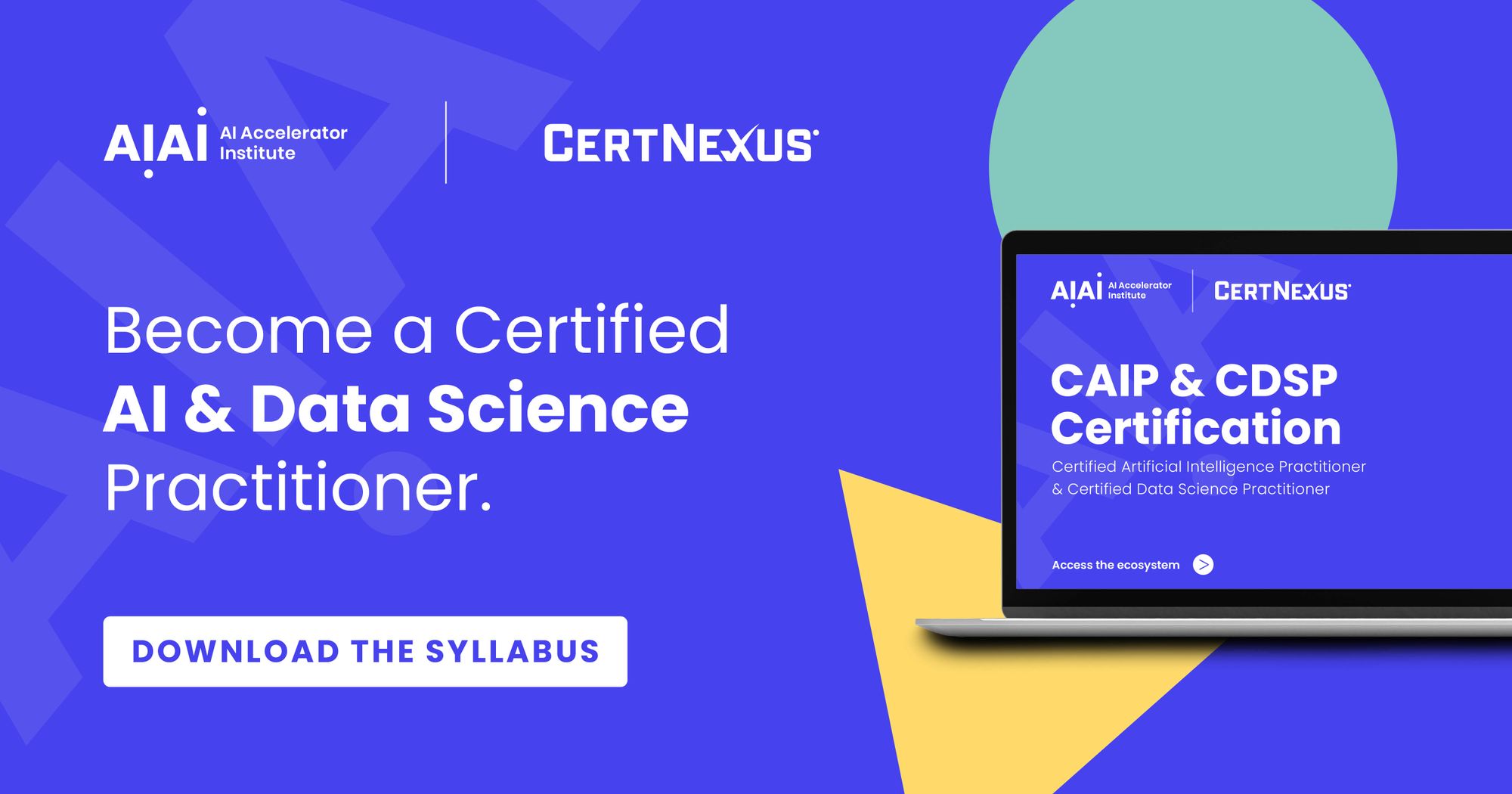 This course will enable you to bring value to the business by putting data science concepts into practice. You'll have the knowledge, skills, and abilities required to answer questions by collecting, wrangling, and exploring data sets, applying statistical models and Artificial Intelligence algorithms, to extract and communicate knowledge and insights.
---
Expert-led content 📚
Our courses have been written by experts, providing information and expertise gathered from having worked in the industry for decades. Knowing what works and what doesn't, and what key insights are needed to upskill is essential - which is why we contacted some of the biggest experts in the industry, with 13 contributors from organizations including Apple, PWC, Delta Airlines, and Trinity College.
You can count on courses from experts who:
Have a pulse on their current industry.
Know the specific skills needed for the jobs in the industry.
Can offer you the right tools when facing potential challenges and how to solve them.
Self-paced 👟
Life can sometimes get in the way - you might be working full time and juggling your family - or maybe you simply enjoy a calmer learning experience. Whether you like to learn as fast as possible or you'd rather take it one step at a time, you'll have 6 months to complete the course once you've registered. Simply log in and complete the lessons at your own pace.
Learn at your own pace.
Have ownership of your learning.
Become an expert.
Enjoy a stress-free process.
Study anywhere, at any time.
Mentor support 🤝
On purchasing this course, you'll gain access to an expert mentor, who'll support you throughout the program. They're just a click away on your course dashboard and will be your experienced and trusted advisor as you get your certification.
You'll enjoy:
Unique perspectives
Valuable knowledge
WIder professional network
Encouragement
Expertise
Open the door 🔑
These courses are tailored to make you more employable. They'll provide the opportunity to elevate your career, giving you the toolkit to analyze, understand, manipulate, and present data within an effective and repeatable process framework. On passing the exam, you'll have the certification to prove it.
Whether you're looking for a career change or you want to upskill yourself, the certifications will make sure you have what you need when you're ready to take that next step.
Cross-industry 🏭
Develop a cross-industry skillset that's transferable, and become a skilled AI and data practitioner regardless of your current role or career path. View things from different perspectives and develop your out-of-the-box thinking while staying ahead of the game by using your existing knowledge to enter new markets.
A range of materials 💻
Digest the content through both eBook and Virtual Lab sessions. Who says you can't have the best of both worlds? Learn at your own pace and soak in the information by reading through the materials or watching the Virtual Lab sessions.
Just pop the headphones on and you're ready.
A community of support 🗣️
Upon course registration, you'll be invited to join a network of 3,500+ AI and Data Science practitioners via the AIAI Slack community. This is your new tribe - leverage their support for any questions or queries you may have.
Fancy getting a head start? Why not join the Slack community today instead?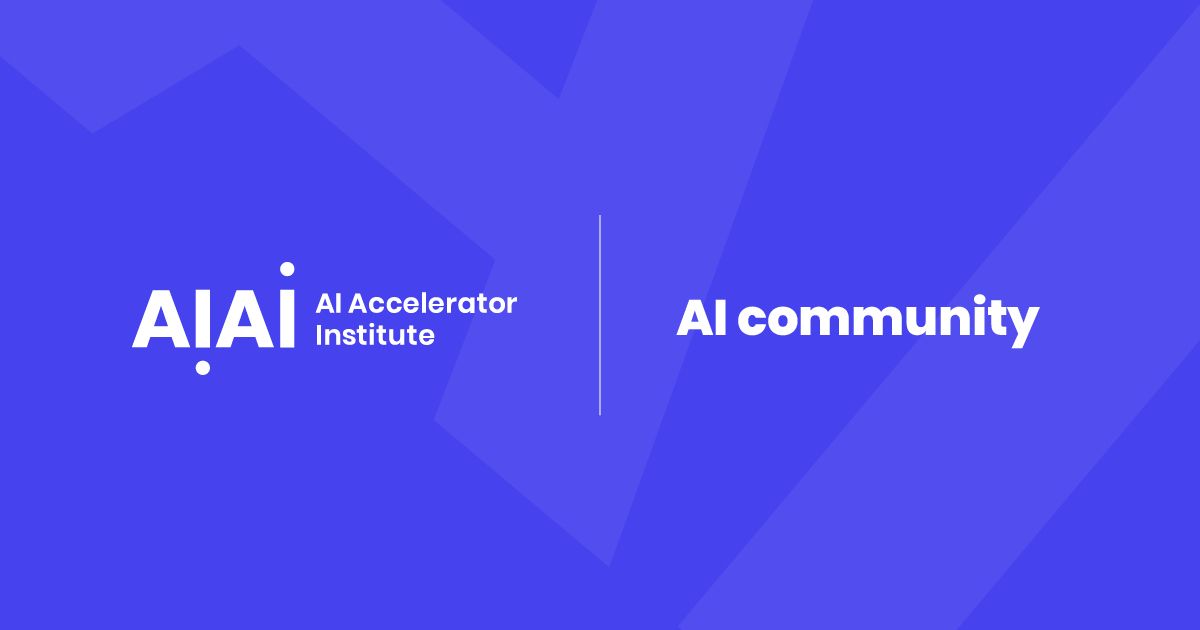 ---
Sign up for our CAIP and CDSP courses today, or purchase both courses together and enjoy a big discount.
Active on LinkedIn? Why not join the group with over 450,000 practitioners?