Become AI Accelerator Institute ambassador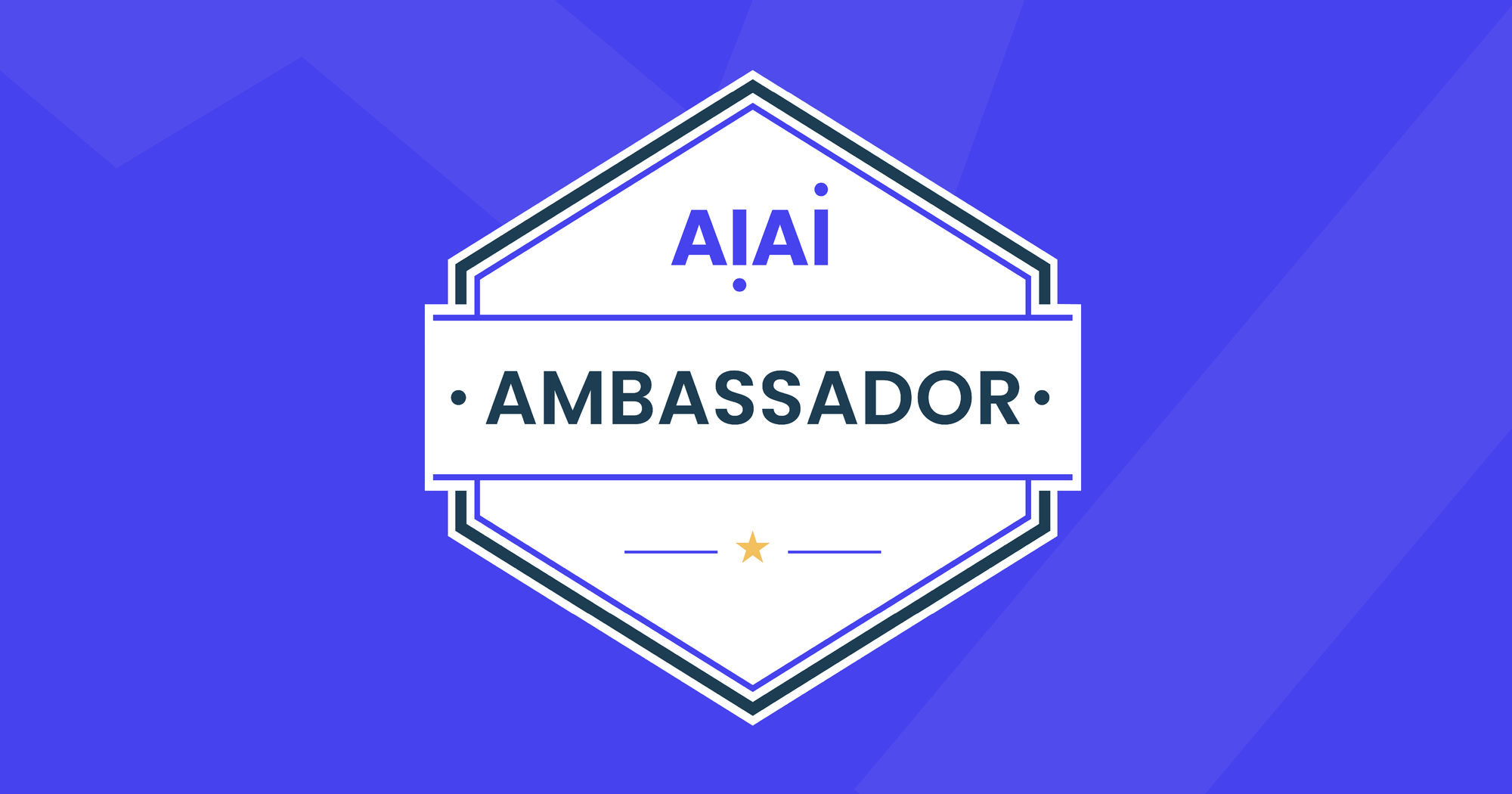 🚨 Applications are currently closed. We will reassess in August 2023.🚨
Are you looking to elevate your personal brand in AI?

Then our ambassador program is perfect for you.  
Designed to give you the space to establish yourself in AI, the program can also be tailored to be exactly what you want.

We want it to be as beneficial for you as it is for us.

Plus, it's no more than a 6-month commitment…

With opportunities to grow your network, contribute to professional content or run community events, we've got you covered!
We'd love for you to be a part of it.
---
What's involved?

We want to make sure that it's as beneficial for you as it is for the AI Accelerator Institute, and to do that, we've created three routes you can take, based on your personal preference, all with specific perks:

⭐ Content ambassador
Love our content? Want to contribute in specific ways? This is the best route for you.
🎙️Contribute to 1x virtual events
One for the free community and one for our member community
e.g. AMAs, webinars, panels, fireside chats, etc.
✍️ Contribute to 1x pieces of content
Case studies, podcasts, written blog etc.
🗣️ Lead a channel
Be the voice people rely on a slack channel

⭐ Chapter lead ambassador
Are you currently running meetups in your area? Or do you want to? Try this route.
🤝 Host 2-3 Regional Meetups per ambassadorship

There are two types, click for details 👇
Virtual Meetups 🧑‍💻
In-person Meetups ☕️

🤑 Benefits and perks
🎖6 months free annual Pro Membership

plus…
💡 Access to an exclusive network
📚 Early access to reports
📝 Early access to new courses
🎖Reputable stamp on CV
🧑‍🏫 Special rates across AI Accelerator Institute products
🔗 Affiliate Link

🖥️  Free access to our virtual events
📢  Reciprocal promotion on socials
🎯  Input into shaping the future of AI Accelerator Institute
🌐  Ambassador networking opportunities

---

Interested in a lighter commitment? Give this a try!


⭐ Brand ambassador
👋 List us as an ambassador on LinkedIn
🌟Provide a review
📱Share our work on social media
🎤 Regular input on Slack 

🤑 Benefits and perks
📚 Early access to reports
📝 Early access to new courses
🎖Reputable stamp on CV
🧑‍🏫 Special rates across AI Accelerator Institute products
🔗 Affiliate Link
You are also welcome to mix and match your contributions to AI Accelerator Institute based on what you'd like to get out of the program. Reach out to your Community Manager to build an ambassadorship that suits you!

👀 Have a look at our one pager
Please note, being a chapter lead or content ambassador (or a bit of a mixture) is at least a 6 month commitment.
---
What does an AI Accelerator Institute ambassador look like?

✨Enthusiastic
Put simply, we want ambassadors that are super into AI - it's the whole reason we started AI Accelerator Institute, and love working with people who have the same passion for the job!

📈Engaged
Don't worry, we're not only after people who tweet 80 times a day (although if that's you, that's awesome too!). But we do like ambassadors to be active and clued-in members of their online community, as that makes building awareness of AI Accelerator Institute that much easier!

🤝Committed
We're in it for the long run, and we hope our ambassadors will be too. This doesn't mean we'll be putting loads on your plate - we're just looking for a two-way partnership.
---
How can ambassadors help the AI Accelerator Institute Community?

👋 Expand our international community.
We've got some great resources, and sharing is caring. We want to get as many people around the world excited about AI as we can, and ambassadors are key to helping us do that!
🗣️ Define the role and amplify fresh voices.  
The more people that know about AI, the more prominent it will become. That means more talent and more influence, and what's wrong with that?
👊 Get AI a seat at the table
You could say it's only a matter of time until AI professionals are understood by every member of the C-suite. We want to make that time now.

Be the change, become a AI Accelerator Institute ambassador.

Sounds good so far? Great - you can apply to be an ambassador for AI Accelerator Institute here. 👇🏻
🚨 Applications are currently closed. We will reassess in August 2023.🚨
The form shouldn't take any longer than 2 minutes to complete, and after reviewing your application, we'll reach out to discuss the next steps!
In the meantime, if you've got any questions, get in touch with us tytti@aiacceleratorinstitute.com.
---
Want to get involved, but just as a one off?
That's totally fine - there are many different ways to be a contributor to the community. Here are just a few:

⌨️ Submit an article to the site
---
Please note:
As we receive a large number of ambassador applications, unfortunately we aren't able to accept everyone onto the program.
We review ambassador contributions every 6 months and we reserve the right to remove them from the program at any time should we feel we no longer have a mutually beneficial relationship.